A transformational event that will continue to accelerate the movement to recruit, develop and retain Black men educators, often referred to as the Black teacher pipeline, took place November 17 – 19, 2022, when the Center for Black Educator Development (CBED) hosted its fifth national Black Men Educators Convening (BMEC 2022), in Philadelphia.
More than 900 Black men educators from the US and a delegation from Germany were in attendance, along with representatives from networks that support them. The three-day gathering was equal parts family reunion, homecoming, doctoral seminar and Wakanda. I was there, and as a Black male educator with thirty years in practice, I've never experienced anything like it.
Hats off to the #BMEC2022 planning committee that conceived a schedule that brimmed with a dazzling display of Black educator excellence and diversity. There were panels of veteran teachers and those new to the profession. Key policy makers, strong voices from our LGBTQ+ community, researchers and school administrators were also present. 
The convening was intergenerational, intersectional and multicultural in ways that Black educators are not often understood to be. It was thrilling to experience such a diverse coalition of the willing assembled in one place and time. I am more hopeful and confident than ever that we can and must do more to make the profession of teaching one that is viable and sustainable for Black men.
What's more, the Black Men Educators Convening schedule also included dynamic breakout sessions that tackled areas of critical importance including teaching Science Technology Engineering and Math (STEM) in a culturally responsive way; social emotional learning (SEL) with practical tools to lead trauma- informed instruction; and even a session on practical side hustles to help new educators make ends meet, an unfortunate but real need that many face.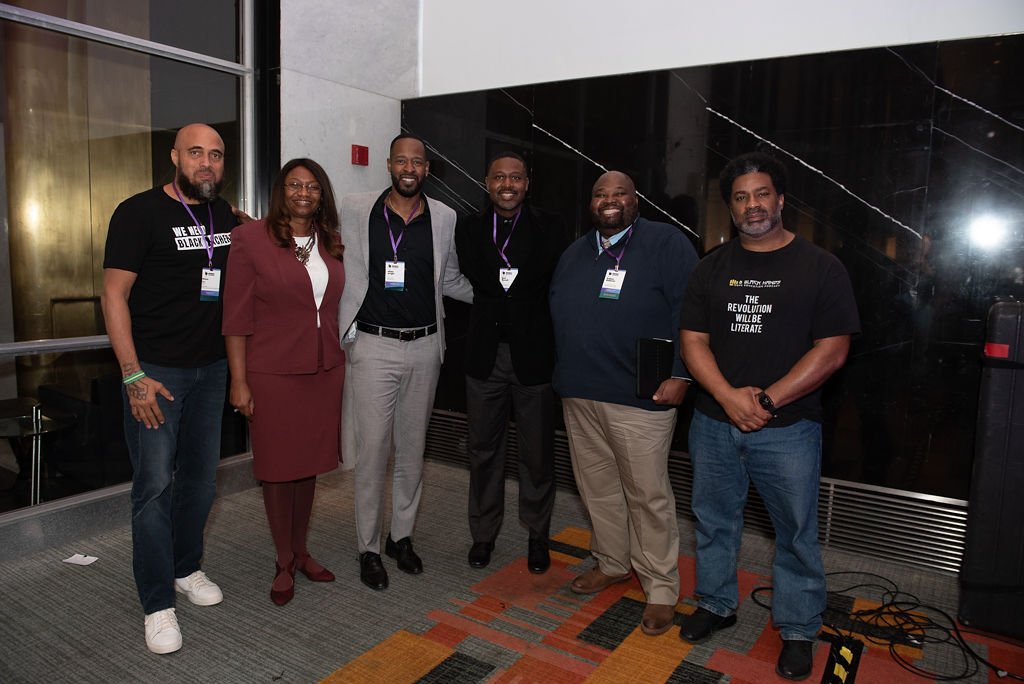 At the bookends of the gathering were soul-stirring keynotes and performances, including a rousing call by Grammy Award-winning spoken word artist Amir Sulaiman to act in accordance with how we would like to be remembered by our children's children. Malcolm X and Dr. Betty Shabazz's daughter, Dr. Ilyasah Shabazz reminded us of the importance of casting our vision of the Black teacher pipeline within the universal struggle for human rights. And in the closing keynote, Dr. Christopher Emdin doubled down on the importance of an intergenerational community of Black educators, depicted artfully with references to Biggie and Robert Smalls, Nas and 21 Savage.
In its current state, the Black teacher pipeline has several chronic leaks.  We seem most focused on recruitment efforts to entice Black teachers into the field, yet fail to implement effective retention strategies that will provide teachers the training and support to remain in the profession for the long run. 
"My friends would follow me into the classroom if we had support and training," said BMEC 2022 panelist Tamir Harper, a first-year Philadelphia educator, and Center for Black Educator Development Black Teacher Pipeline Fellow.
Black teachers often encounter school cultures and climates that are at times hostile and indifferent to the quality of the professional environment that would welcome and sustain them. 
Center for Black Educator Development founder and CEO, Sharif El-Mekki contends that education leaders must respond effectively to the question, "What about your leadership, your school or district culture and climate would make it a place that teachers and leaders choose to stay for the long haul?"
As chairman of the board of the Center for Black Educator Development, I am energized by the multi-pronged approach the Center is taking to name and champion systems and practices that can help foster environments that are welcoming and culturally responsive. Events like the Black Men Educators Convening 2022 demonstrate that where there is a will, we can powerfully gather coalitions of stakeholders that are invested in fixing and rebuilding the black teacher pipeline, which we know is the way. 
Winston C. Cox's blog was originally posted on the Center for Black Educator Development's website. Winston is the Chairman of the Board at the Center for Black Educator Development. He was a teacher and principal in the Boston and Washington, DC public schools before becoming the National Implementation Director for Turnaround Arts at the John F. Kennedy Center for the Performing Arts. Winston and his wife, Laina, recently launched their own education and leadership development company, Cox LEADS, LLC.